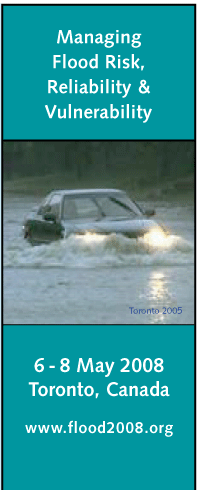 Exhibitor Opportunities
Exhibitors Welcome!
The Fourth International Symposium on Flood Defence will be held in Toronto, Ontario, from May 6 – 8, 2008. The exhibition will be opened on Tuesday morning, 6 May and will close on Thursday, 8 May. This congress will bring together some 400 delegates from all over the world. Representatives of various governmental organizations, academics, and consultants with interest and experience in management of floods will be participating in sessions:
Addressing the various approaches and methods used to manage and assess flood risk (safety), reliability and vulnerability;
Sharing of new, innovative developments in flood risk reduction methodologies;
International activities in sustainable floodplain management;
Bridging the gaps that arise between the flood research and development community and those flood professionals responsible for responding to and mitigating against major flood events;
Exploring means to sustain balance between structural and non-structural approaches to floodplain management;
Flood risk management in large urban areas; and
Exchanging recent experiences gained in the areas of integrated flood policy development, implementation and management.

General information
The fourth International Symposium on Flood Defence will be held at The Westin Harbour Castle in Toronto, Ontario. The Westin Harbour Castle is situated on the shores of Lake Ontario and offers a wealth of attractions for visitors. Exhibitors will set up in the foyer outside the Frontenac Ballroom. The exhibition area can accommodate 10 booths – 10' x 10' each.
Exhibition participation costs
Floor space only
10 feet x 10 feet - Cost is $800.00
Fee includes conference registration for one person.
Payment
Payment is due in full by March 1, 2008. Payments must be made payable to The Institute for Catastrophic Loss Reduction. (Cheque only)
Contacts
Symposium Secretary
Tracy Waddington
ICLR
Tel: 416-364-8677
Fax: 416-364-5889
Email: Twaddington@iclr.org