Topic of the Month: April 2010
click here to see the past topics
"Water and Disaster" Action Plan
Posted by Dr. Ali Chavoshian (ICHARM-Japan)
The UNSGAB High-Level Expert Panel on Water and Disaster (UNSGAB/HLEP) was convened at the request of the UN Secretary General's Advisory Board on Water and Sanitation (UNSGAB) in 2007, under the Presidency of H.E. Dr. Han Seung-soo, Prime Minister of the Republic of Korea. It aims to bring life and a sense of urgency to the agreement reached at the World Conference on Disaster Reduction in 2005, the Hyogo Framework for Action (2005-2015). The panel states that it stands ready to monitor the cited governments and institutions and to report their progress to the international community.
The Expert Panel members subsequently found themselves united in their sincere wish to build a safer world and, as a result of serious and devoted effort, created an Action Plan for preventing, preparing for, and managing water-related disasters. The "Water and Disaster" Action Plan was presented in March of 2009 at the 5th World Water Forum in Istanbul. This report presents a comprehensive action plan designed to minimize the loss of life and destruction brought on by increasing numbers of water-related disasters worldwide (such as floods, droughts, tidal waves, storm surges, etc.) and also to minimize loss of life in post disaster/conflict conditions.
Please click the following image to see the list of the actions. (PDF, 1.5 MB)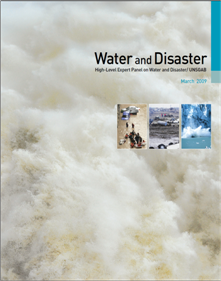 What are the IFI commitments in the "Water and Disaster" Action Plan?
The "Water and Disaster" report listed 40 actions in its Annex 1 (PDF, 184 KB). The IFI is committed for two actions of the list as follow:
1- National government to promptly develop people-centered warning systems, comprehensive flood risk maps and assessments linked to communication systems such as cell phone networks. These systems to include observation and warning for flash floods. The panel requests WMO and UNESCO (via International Flood Initiative) to assist governments in undertaking the proposed actions and invite international financial institutions to support the fulfillment of the proposed actions. (Item No. 2 in Annex 1: List of Actions)
2- International Flood Initiative and international hydrological and hydraulic institutes to examine the efficiency and effectiveness of disaster prevention measures and develop disaster preparedness indices for implementation by local authorities. (Item No. 30 in Annex 1: List of Actions)